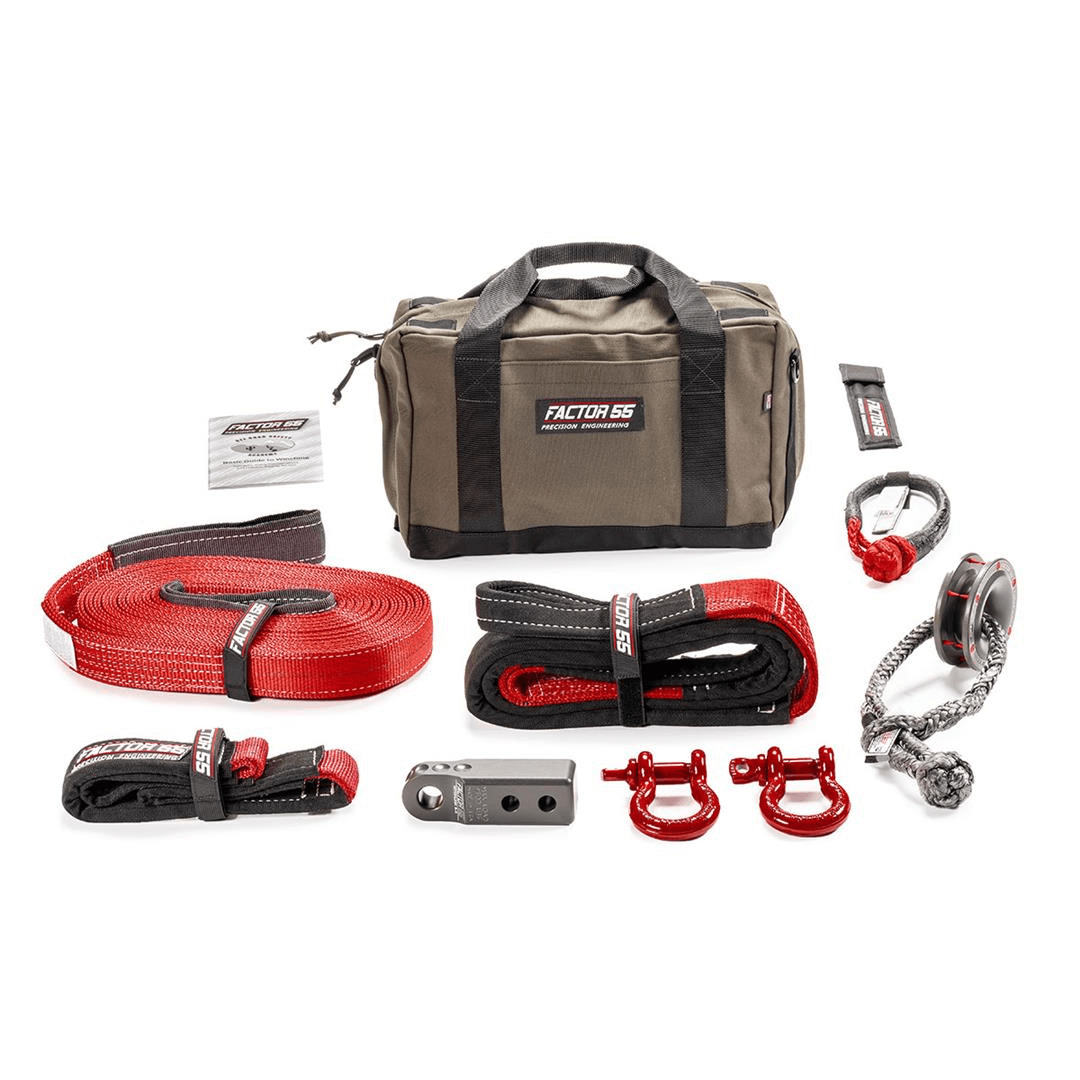 Medium Vehicle Recovery Kit
---
Are you a nomad who loves to explore off-road destinations? The Factory 55 Vehicle Recovery Kit is the perfect solution for those unexpected situations where your vehicle gets stuck in mud, sand, or snow. This kit has all the essential tools you need to get your vehicle unstuck and back on the road in no time. 
Features:
Strong and durable: The kit is made with high-quality materials that can withstand heavy-duty use in tough conditions.

Versatile: The kit includes multiple tools that can be used for various recovery scenarios, such as a snatch block, tree saver strap, and soft shackle.

Easy to use: The kit comes with clear instructions on how to use each tool, making it simple and straightforward for anyone to operate.

Compact and lightweight: The kit is designed to be easily stored in your vehicle without taking up too much space or adding extra weight.
Whats Included:
1 HitchLink 2.0

1 Extreme Duty Soft Shackle

1 Standard Duty Soft Shackle

2 Crosby 3/4 Inch Shackle

1 Standard Duty Tow Strap

3 Strap Wraps

1 Factor 55 Recovery Gear Bag

1 Shorty Strap II

1 Tree Saver

1 RRP

1 Fast Fid

1 Basic Guide To Winching
Investing in the Factory 55 Vehicle Recovery Kit can give you peace of mind when you're out on your next adventure. Don't let getting stuck in the mud ruin your trip – be prepared with this essential recovery kit. Order yours today and hit the road with confidence!
Recommended Use: Off-Road
Includes Receiver Hitch Block: Yes
Includes Shackles: Yes
Includes Recovery Straps: Yes
Includes Spade: No
Includes Gloves: No
Includes Gear Bag: Yes