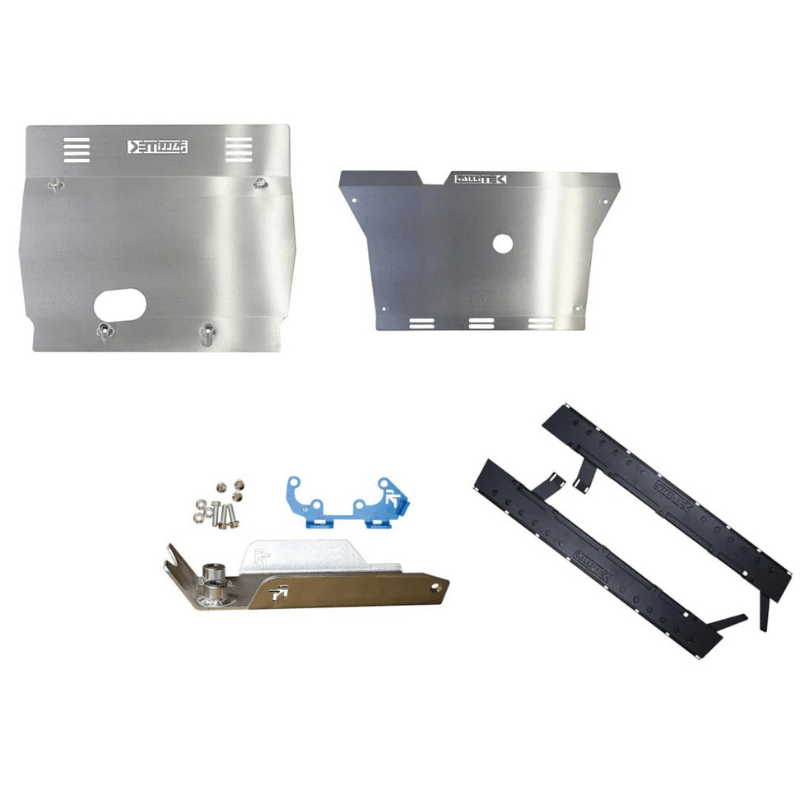 Total Protection Package Subaru Crosstrek | 2018-2023
---
Face the toughest terrain with the RalliTEK Subaru Crosstrek Total Protection Package. Crafted for the fearless, this complete underbody armor package gives you the confidence to take the beaten path. Ready for any obstacle, this package is your ultimate safeguard against the rugged journey ahead.
Features:
Bolt-On Convenience: Installing the RalliTEK Subaru Crosstrek Total Protection Package is a breeze, thanks to the included hardware and bolt-on design. No need for complex modifications; you can hit the trails in no time.
Triple-Layered Defense: This package doesn't mess around when it comes to protection. It comprises engine, transmission, and differential skid plates, forming an impenetrable shield for your vehicle's underbelly. Say goodbye to worries about debris causing costly damage to vital components.
Robust Build: Crafted from laser-cut aluminum plates measuring a sturdy 1/8" thick, these skid plates are engineered to withstand the harshest conditions. They're built to last and keep your Crosstrek's undercarriage safe.
Engine Protection: Soft sheet metal components like the oil pan and engine parts are prone to punctures from debris. RalliTEK's skidplate adds an extra layer of security, effectively safeguarding your engine components and oil pan from potential harm. Keep your engine protected and performing optimally.
Differential Defense: Rocks and hazardous debris are no match for the RalliTEK Subaru Crosstrek Total Protection Package. The rear differential is shielded from damage, thanks to the strong and lightweight 3/16" aluminum construction.
Fluid Changes Made Easy: This package is designed with provisions to facilitate effortless fluid changes. No need to compromise convenience for protection.
Built-In Jack Point: Need to lift your vehicle for maintenance or recovery? The RalliTEK skid plate provides an easy rear jack point, making these tasks a breeze.
Obstacle-Friendly Design: With angled front and side lips, this package is engineered to prevent snagging on obstacles. You can confidently navigate through challenging terrain without hesitation.
Rust-Resistant Hardware: The RalliTEK Subaru Crosstrek Total Protection Package includes zinc-coated, rust-resistant hardware, ensuring durability and longevity even in harsh environmental conditions.
In a world where off-roading adventures demand the best in protection, the RalliTEK Subaru Crosstrek Total Protection Package stands as your trusted partner, ensuring you conquer the trails with peace of mind.
**FITMENT: 2018-2023 Subaru Crosstrek**
What's Included:
1 - RalliTEK Engine Skid Plate

1 - Rallitek Transmission Skid Plate

1 - RalliTEK Diff Skid Plate

1 - RalliTEK Rock Sliders
Install Instructions: