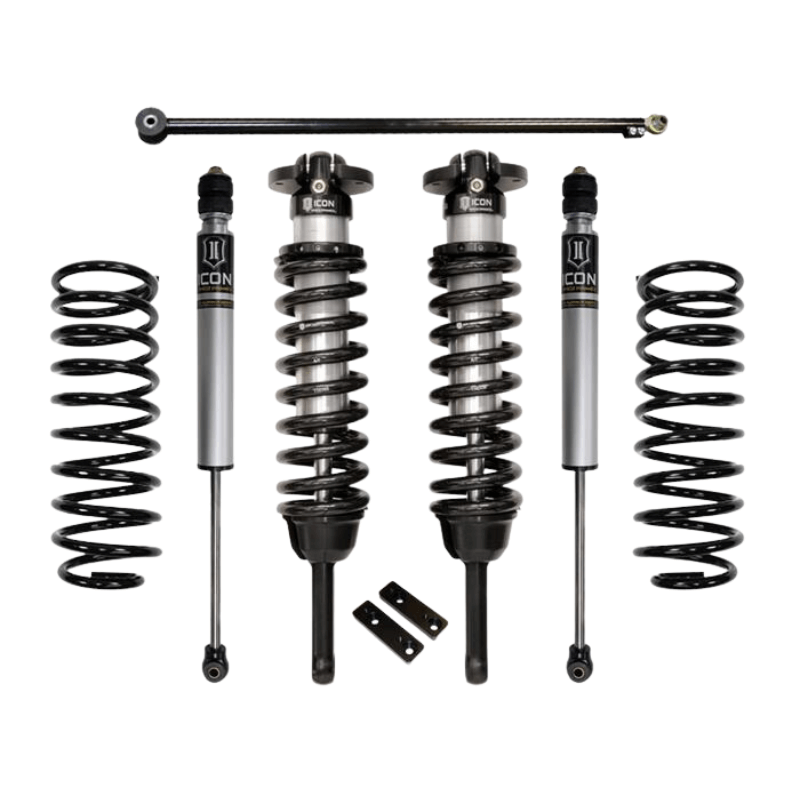 ICON GX460 Stage 1 Suspension System 0-3.5"
---
Elevate your off-road journey to unprecedented heights with the ICON GX460 Stage 1 Suspension System 0-3.5". Experience the thrill of increased wheel travel and a ride quality that surpasses stock standards, as this meticulously designed upgrade takes your GX460's performance to a whole new level.

Features:

Enhanced Wheel Travel and Ride Comfort: Venture confidently into rugged terrains with increased wheel travel that allows your vehicle to gracefully conquer obstacles. Embrace a smoother and more comfortable ride compared to the stock suspension, making every off-road escapade a joyous experience.
Tailored Shock Absorption and Control: Unmatched shock damping and control await you, thanks to the vehicle-specific tuned front and rear shocks. Experience enhanced stability and confidence while navigating uneven surfaces, ensuring you're in command of your adventure.

Customizable Lift Height: With adjustable coilovers offering a lift range of 0-3.5", you have the freedom to fine-tune your GX460's stance to your exact preferences. Achieve the perfect balance between ground clearance and aesthetics while maintaining optimal suspension geometry.

Precision CNC Machined Components: Crafted from 6061 aircraft-grade aluminum, the CNC machined components exemplify both durability and precision. This ensures that your suspension system can withstand the harshest conditions while maintaining impeccable performance.

Durable Construction: The corrosion-resistant CAD plated coilover shock body with a robust 7/8" shaft guarantees long-lasting performance, even in challenging environments. Rest assured, your suspension system is built to withstand the test of time.

Longevity and Minimal Deflection: Embrace extended longevity and minimal deflection with the inclusion of FK Rod End bearings. These bearings not only contribute to the suspension system's durability but also minimize deflection, ensuring a smoother ride.

Advanced Rear Shocks: The 2.0 Aluminum Series rear IFP shocks with 5/8" shafts elevate your rear suspension's capabilities. Experience enhanced performance and control, both on and off the road, for a truly exhilarating journey.

KDSS Compatibility: The included adjustable rear track bar ensures compatibility with the Kinetic Dynamic Suspension System (KDSS), offering versatility and adaptability to different driving scenarios.

Effortless Installation: Experience a hassle-free installation process, as this bolt-on system eliminates the need for cutting or welding. Enjoy the convenience of upgrading your suspension without the complexity.
Unleash the true potential of your GX460 with the ICON GX460 Stage 1 Suspension System 0-3.5". Elevate your ride's capabilities with increased wheel travel, impeccable shock damping, and customizable lift height. Crafted with precision from top-quality materials, this suspension system is your gateway to conquering uncharted territories with unparalleled comfort and control.
Fitment:
2010 - Up Lexus GX460
What's Included:
58646 (QTY: 1) | 10-UP FJ/4RNR/10-UP GX 2.5 VS IR COILOVER KIT
52700 (QTY: 1) | 07-UP FJ/03-UP 4RNR/03-UP GX REAR 2" SPRING KIT
54200 (QTY: 1) | 07-UP FJ/03-UP 4RNR/03-UP GX REAR ADJ TRACK BAR KIT
56505 (QTY: 2) | 07-UP FJ/03-UP 4RNR/03-UP GX 1-3" REAR 2.0 VS IR
Installation Guides: ICON GX460 Stage 1 Suspension System 0-3.5"
Factory Wheels & Tires Fitment: Yes
Recommended Aftermarket Wheels: ICON Alloys | 17x8.5" w/ 4.75" Backspace / 0mm Offset
Recommended Aftermarket Wheels: ICON Alloys | 18x9" w/ 5.00" Backspace / 0mm Offset
Recommended Aftermarket Wheels: ICON Alloys | 20x9" w/ 5.00" Backspace / 0mm Offset
Recommended Aftermarket Tires: 33" x 11.50" (Larger Tires May Fit but Fender Trimming and Modifications will be Required)
APPLICATION NOTE #33: GX460 MODELS EQUIPPED WITH FACTORY REAR AIR RIDE SUSPENSION REQUIRE ICON REAR COIL CONVERSION KIT #56110
APPLICATION NOTE #35: REMOTE RESERVOIR MOUNTING BRACKETS MAY INTERFERE WITH AFTERMARKET BUMPER MOUNTS / WINDSHIELD WASHER BOTTLES.
APPLICATION NOTE #46: SUSPENSION SYSTEM COMPATIBLE WITH KDSS. FRONT SWAY BAR RELOCATION BRACKETS NOT USED FOR KDSS EQUIPPED VEHICLES. CERTAIN YEARS REQUIRE TRIMMING FOR FRONT RESERVOIR BRACKET FITMENT.
APPLICATION NOTE #47: 700LB COIL SPRING AVAILABLE FOR HEAVIER EQUIPPED VEHICLES.
APPLICATION NOTE #55: SHOCKS ARE FULLY SERVICEABLE. COILOVER HEIGHTS INDICATED ARE FOR A STOCK EQUIPPED VEHICLE
Ships in multiple boxes