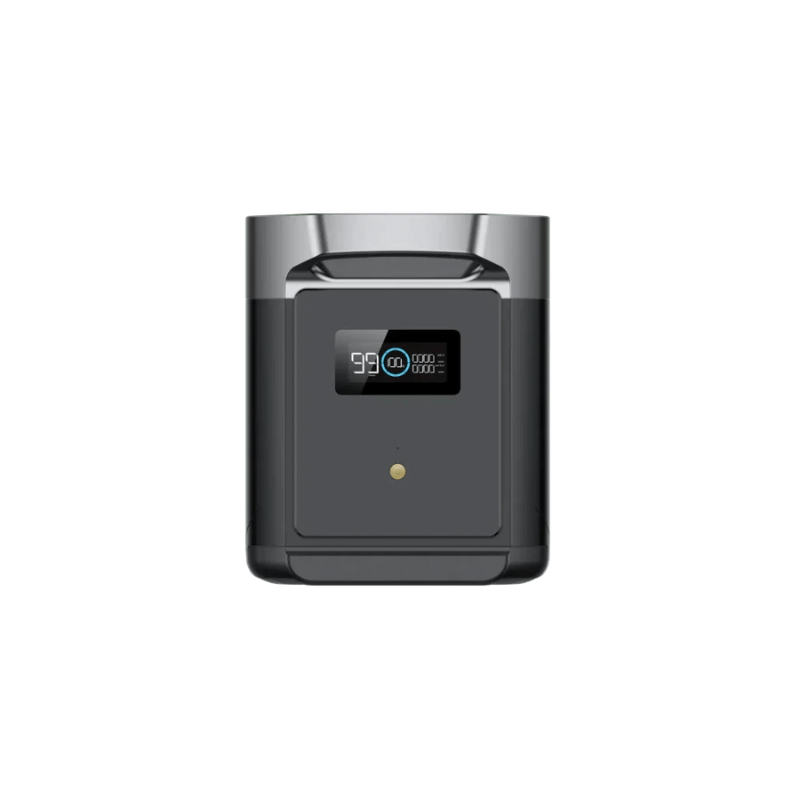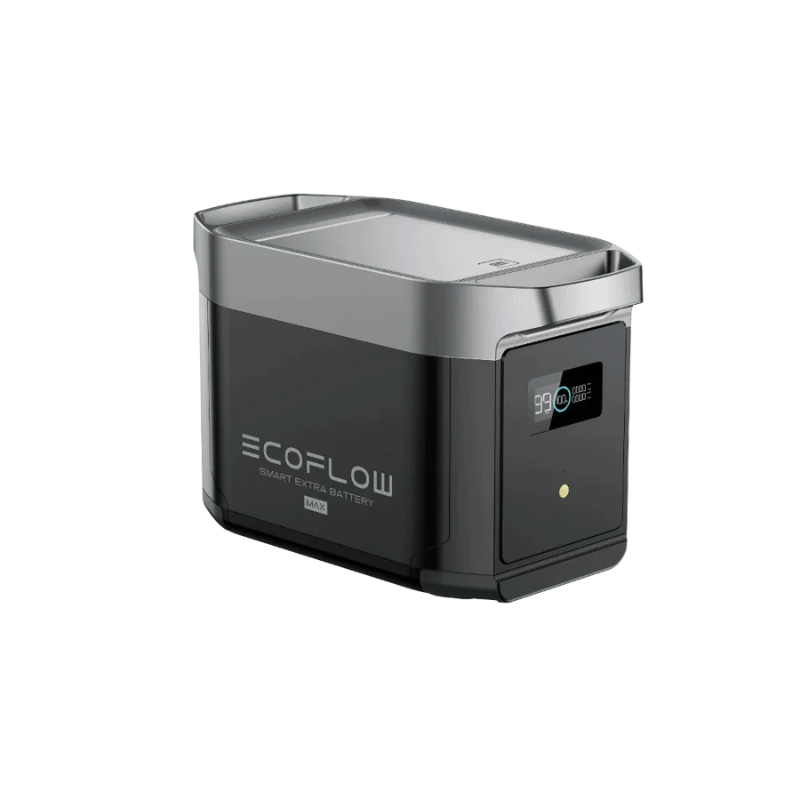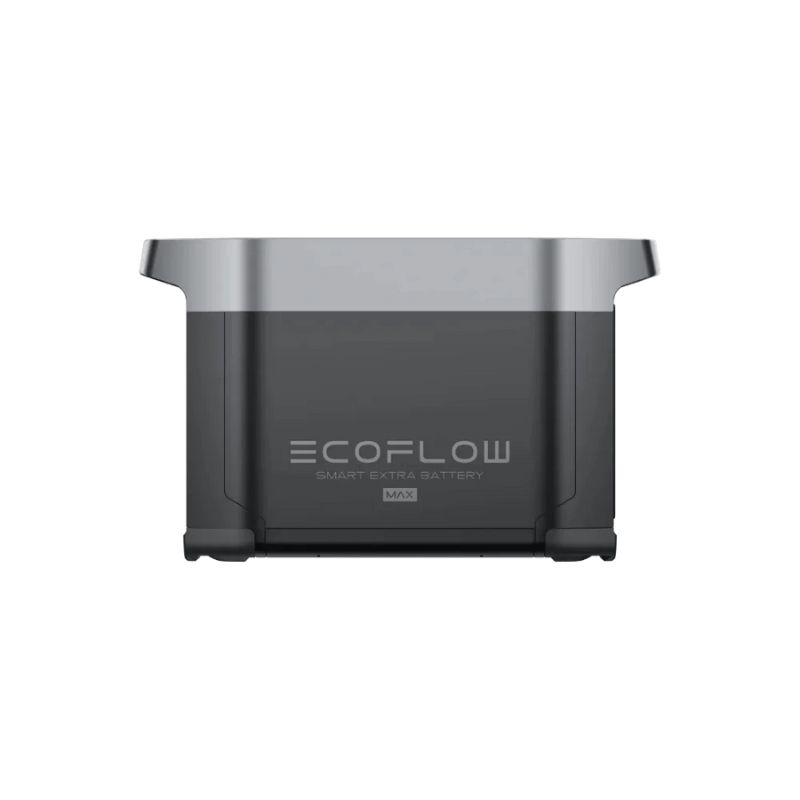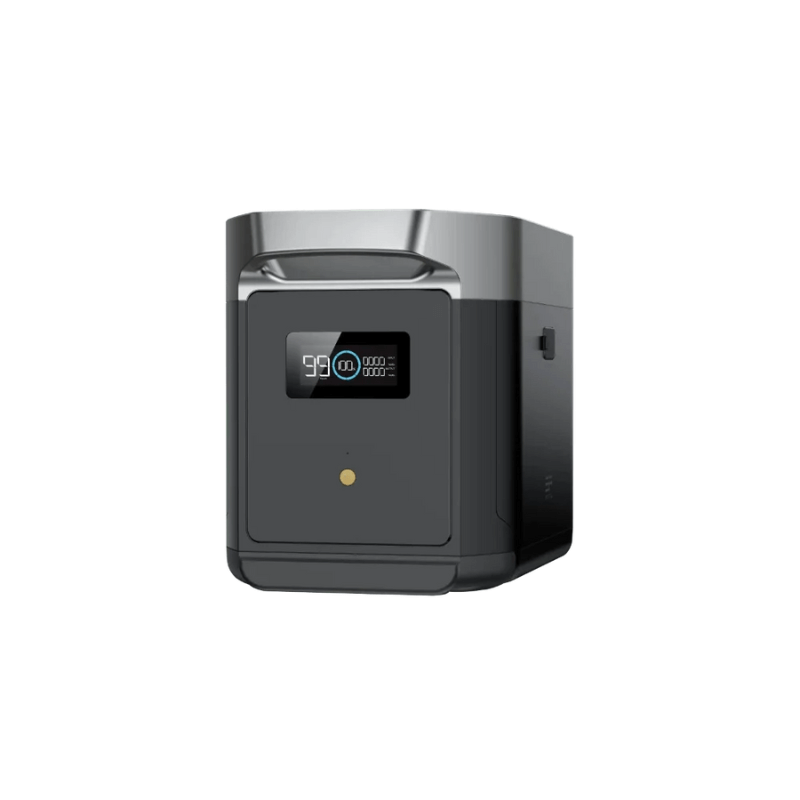 EcoFlow DELTA 2 Max Smart Extra Battery
---
Free Shipping to Lower 48!
EcoFlow DELTA 2 Max Smart Extra Battery, a versatile energy storage solution with a customizable capacity ranging from 2 to 6kWh. Tailor your power needs effortlessly by connecting up to two of these intelligent extra batteries to your DELTA 2 Max, propelling your total capacity to an impressive 6144Wh. Whether you're seeking supplementary energy for household backup, outdoor escapades, or everyday demands, this smart extra battery is your reliable companion.

With an enhanced LFP battery chemistry, the DELTA 2 Max Smart Extra Battery delivers remarkable endurance. It endures an impressive 3000 complete cycles before tapering to 80% capacity, guaranteeing a robust 10-year lifespan even through daily use. This longevity outshines comparable power stations by sixfold, furnishing you with an enduring and dependable energy storage solution.

Safety takes center stage with the DELTA 2 Max Smart Extra Battery, fortified by advanced BMS (battery management system) technology. This technology meticulously oversees vital parameters like voltage, current, and temperature, ensuring a secure and durable battery that stands the test of time. Multilayer protection, including a non-slip rubber base and a UL94-5VA fire-resistant casing, elevates safety and resilience.

Designed for portability's rigors, the DELTA 2 Max Smart Extra Battery boasts a robust one-piece design. Each port is reinforced to combat wear and tear, preserving reliable connections and uninterrupted power supply. Impressively, despite its advanced LFP battery, this smart extra battery retains a 30% weight reduction compared to its peers, facilitating easy transport and versatility.

When paired with the DELTA 2 Max, this smart extra battery delivers a staggering 2400W AC output, empowering you to power an array of devices. Thanks to the proprietary X-Boost technology, it can capably manage appliances with outputs up to 3400W, averts overload and overheating. This adaptability renders it suitable for diverse applications, from home backup and RVing to creative pursuits like DIY projects, filmmaking, and photography.

Experience expedited recharging with the DELTA 2 Max Smart Extra Battery. Harnessing up to 1000W of solar input alongside AC power yields industry-leading charging speeds. In just 43 minutes, achieve an 80% charge using solar and AC power in combination. Alternatively, rely solely on AC power for a swift 80% charge within 1.1 hours. Bask in rapid, efficient charging, ensuring your power reservoir remains ever-prepared for utilization.
Features:
Expandable Capacity: Unleash the potential of your energy storage by seamlessly increasing the DELTA 2 Max capacity with an extra 2048Wh, tailored to your requirements.
Triple the Power: Elevate your energy storage experience with a remarkable 2-6kWh expandable capacity. Tailor your power to fit various needs, whether it's for reliable home backup, adventurous RVing, outdoor excursions, or even daily usage. Embrace the flexibility to integrate up to two DELTA 2 Max Smart Extra Batteries, skyrocketing your capacity to an astonishing 6144Wh.
Durability That Lasts: The DELTA 2 Max is designed to be your steadfast power companion, built to endure 6 times longer than conventional alternatives. Benefit from an impressive lifespan of 10 years with daily use, retaining a remarkable 80% of its original capacity. This unmatched longevity is attributed to its cutting-edge LFP battery chemistry, boasting an impressive 3000+ cycles.

Confidence in Quality: Invest in power storage you can rely on. The DELTA 2 Max Smart Extra Battery comes backed by a solid 5-year warranty, ensuring your peace of mind and demonstrating EcoFlow's commitment to quality and customer satisfaction.
User Manuals: EcoFlow DELTA 2 Max Smart Extra Battery
Specifications: EcoFlow DELTA 2 Max Smart Extra Battery
Model: DELTA 2 Max Smart Extra Battery
Brand: EcoFlow
Capacity: 2048Wh
Input Port: 51.2V, 2000W Max
Output Port: 51.2V, 3200W Max
Battery: LFP chemistry, 3000 cycles to >80% capacity
Dimension: 18 × 9 × 11 in
Weight: 42 lbs
Compatible with: DELTA 2 / DELTA Max 2000/ DELTA 2 Max