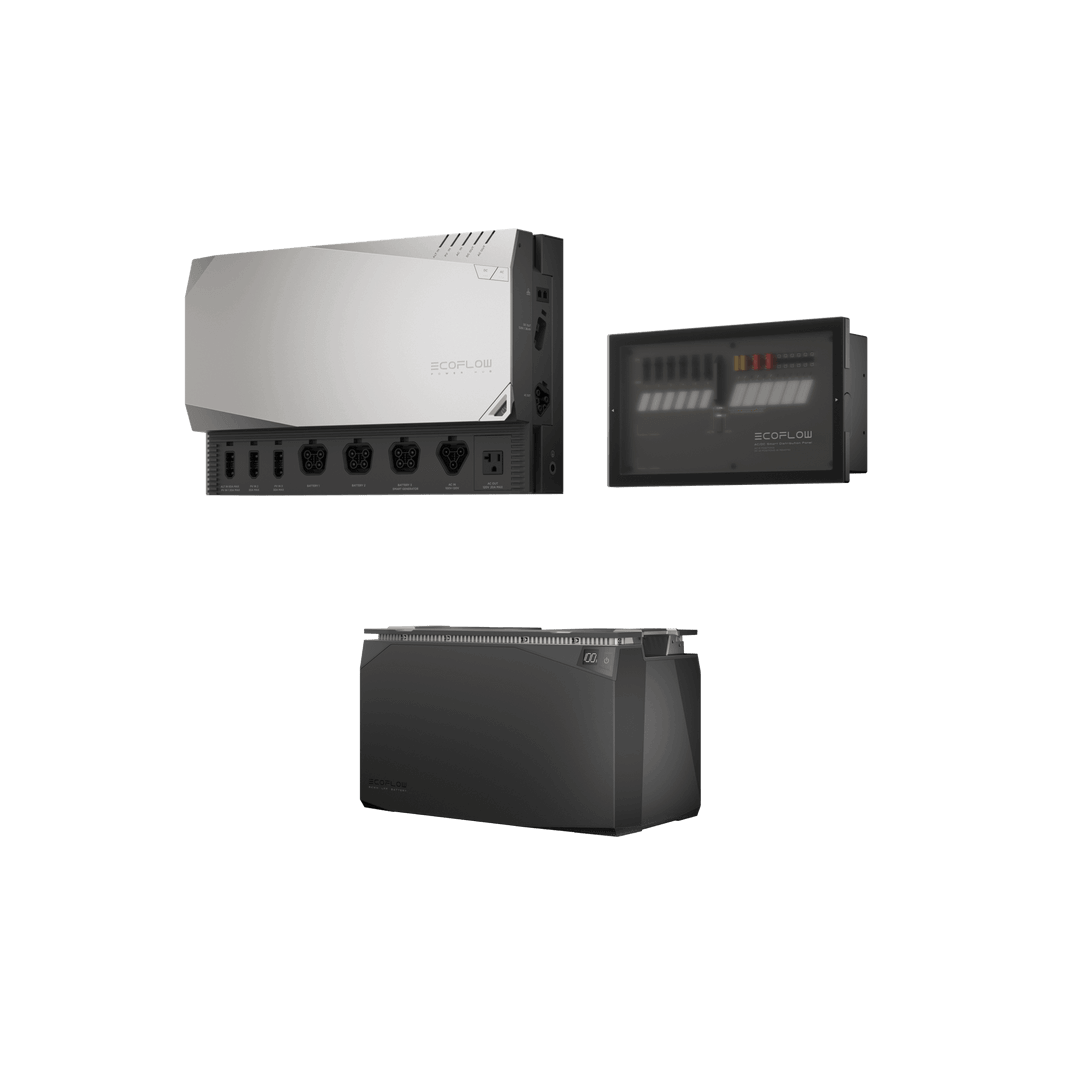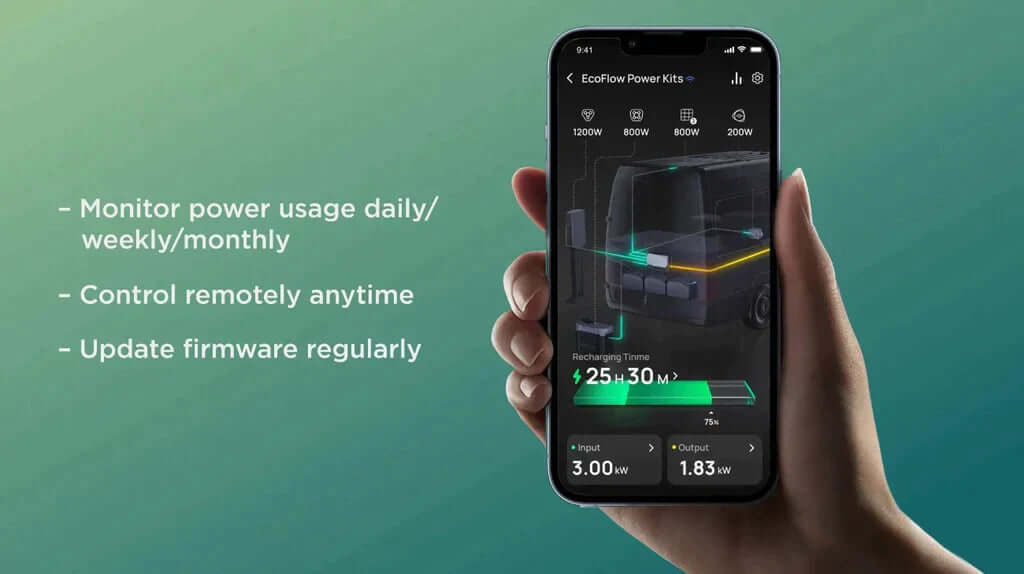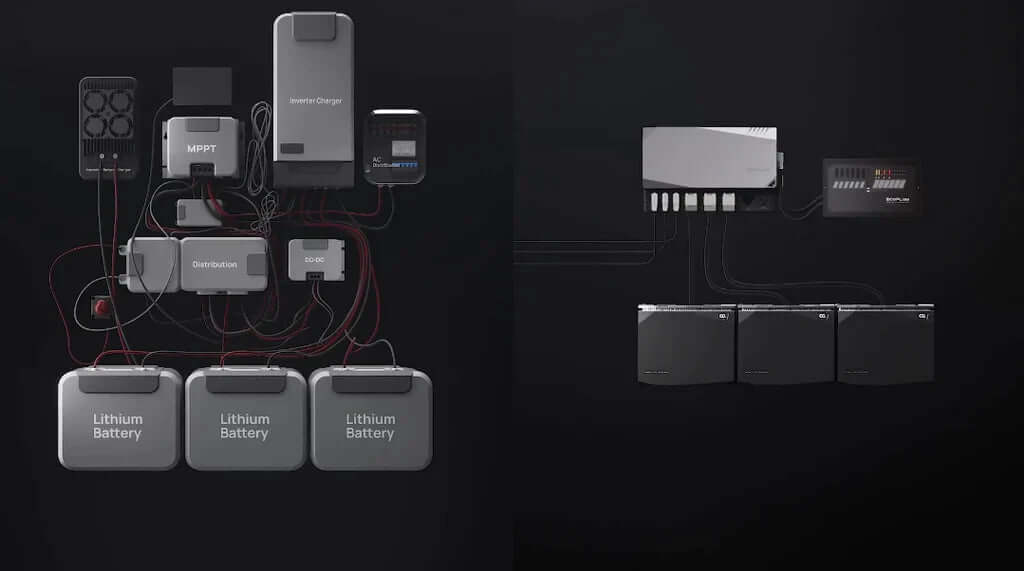 EcoFlow 5kWh Power Kit - Prepared Kit
---
Free Shipping to Lower 48!
The EcoFlow 5kWh Prepared Power Kit - your essential companion for the world of van life and van conversions. Engineered to amplify your on-the-go lifestyle, this innovative power kit is tailored to meet the unique needs of adventurers seeking freedom, sustainability, and energy independence. The 5kWh prepared kit from EcoFlow allows for an out of the box power system that can compete on the largest stage with the $15,000 power kits available on the market for half the price. The 5kWh prepared kit comes with almost everything you need to turn your home on wheels into a complete off grid vehicle for as much time as you can take off work. 5kWh breaks down to 5,000 watt hours and 416 amp hours at 12 volts. 

Features:

Unveil the ultimate Power Hub - housing a robust 3600W pure sine inverter-charger boasting an impressive 7200W AC output, coupled with dual MPPT solar charge controllers, a DC/DC converter, DC/DC battery charger, and versatile input/output ports for solar, alternator, battery, and generator charging.
Multiple Charging Methods: Empower your journey with versatile energy inputs, including up to 4800W solar, 1000W alternator, 3000W shore power, and 1800W Smart Generator input.
Effortless Integration: With plug-and-play simplicity, assembly is a breeze, ensuring you're up and running in no time.

Streamlined All-in-One Design: Experience convenience like never before with an integrated inverter hub, neatly compacted for optimal space utilization.
Space-Saving Battery Stacking: Maximize your van's interior with stackable batteries, allowing you to make the most of every inch.

Enhanced Safety and Efficiency: The 48V system not only delivers powerful performance but also offers a safer and more compact power solution.

Intelligent Control at Your Fingertips: Enjoy real-time and remote smart controls, providing you with mastery over your power usage no matter where you roam.

Unparalleled Warranty: Your investment is protected with a 24-month warranty, ensuring peace of mind and long-lasting performance.
Embrace the EcoFlow 5kWh Prepared Power Kit to revolutionize your van life experience. Whether you're embarking on off-grid escapades, seeking eco-conscious power solutions, or simply desiring the freedom to roam, this kit empowers you to live life on your terms. Embrace innovation, energy efficiency, and self-sufficiency all in one. Choose the EcoFlow 5kWh Prepared Power Kit today and embark on a journey where power meets purpose.
What's Included:
1x Power Hub
1x 5kWh LFP Battery
1x Cable Pack
1x AC / DC Smart Distribution Panel
1x Battery Mounting Strap
 Additional Information:
| | |
| --- | --- |
| Battery Capacity - Per 5kWh Battery Pack | 5120 Wh (100 Ah @ 51.2 volts or 400 Ah at 12.8 volts) |
| Battery Type | Lithium iron phosphate |
| Nominal Voltage | 51.2V |
| Configuration | 16S1P |
| Charging Cut-off Voltage | 57.6V |
| Discharging Cut-off Voltage | 40V |
| Max Continued Charging Current | 80A |
| Max Continued Discharge current | 100A |
| Battery Cycle Life | 3,500 cycles to 80% capacity |
| Battery Dimensions | 19.7 x 10.2 x 11.8 in |
| Weight | Approx. 89.5 lbs |
USER MANUALS: EcoFlow 5kWh - Prepared Kit