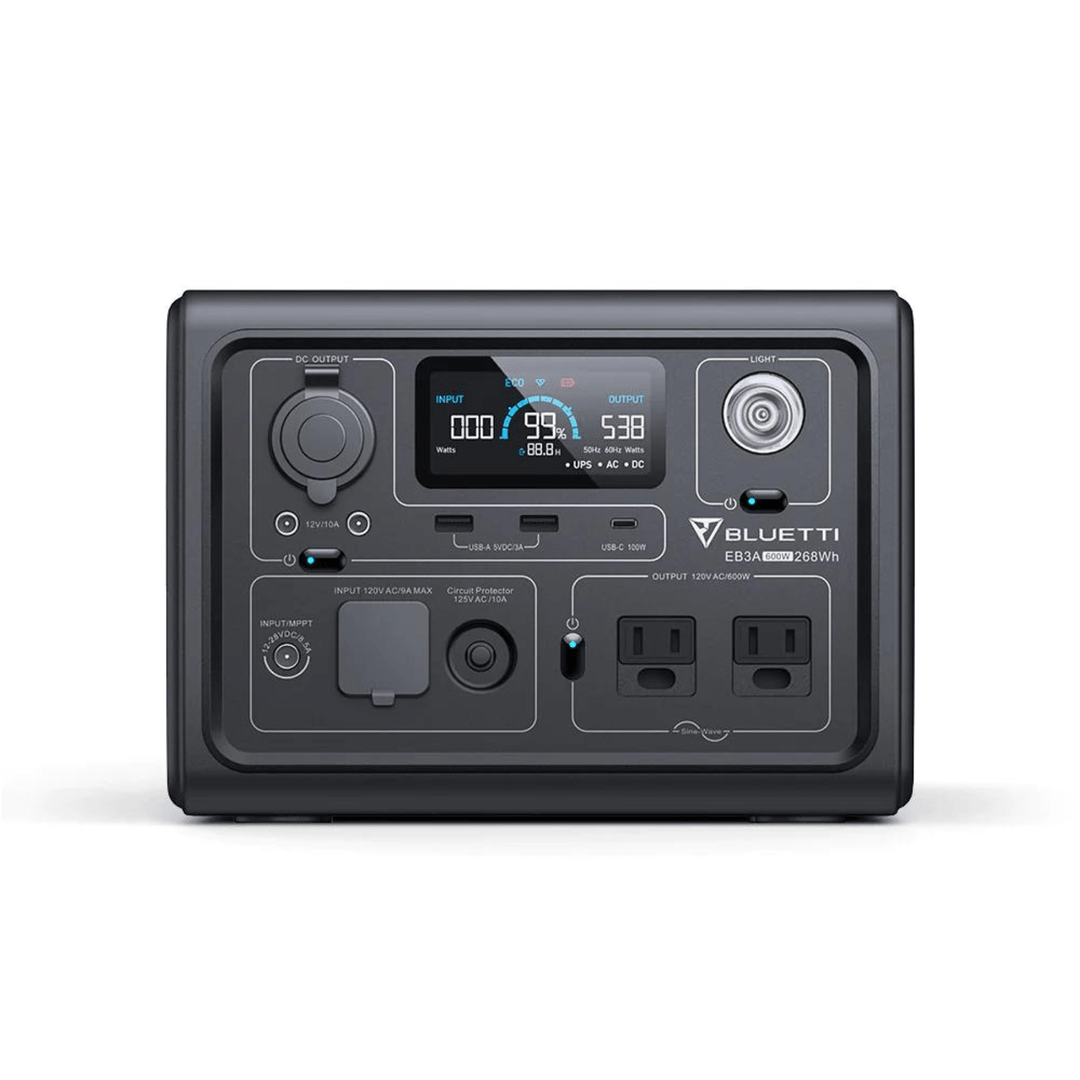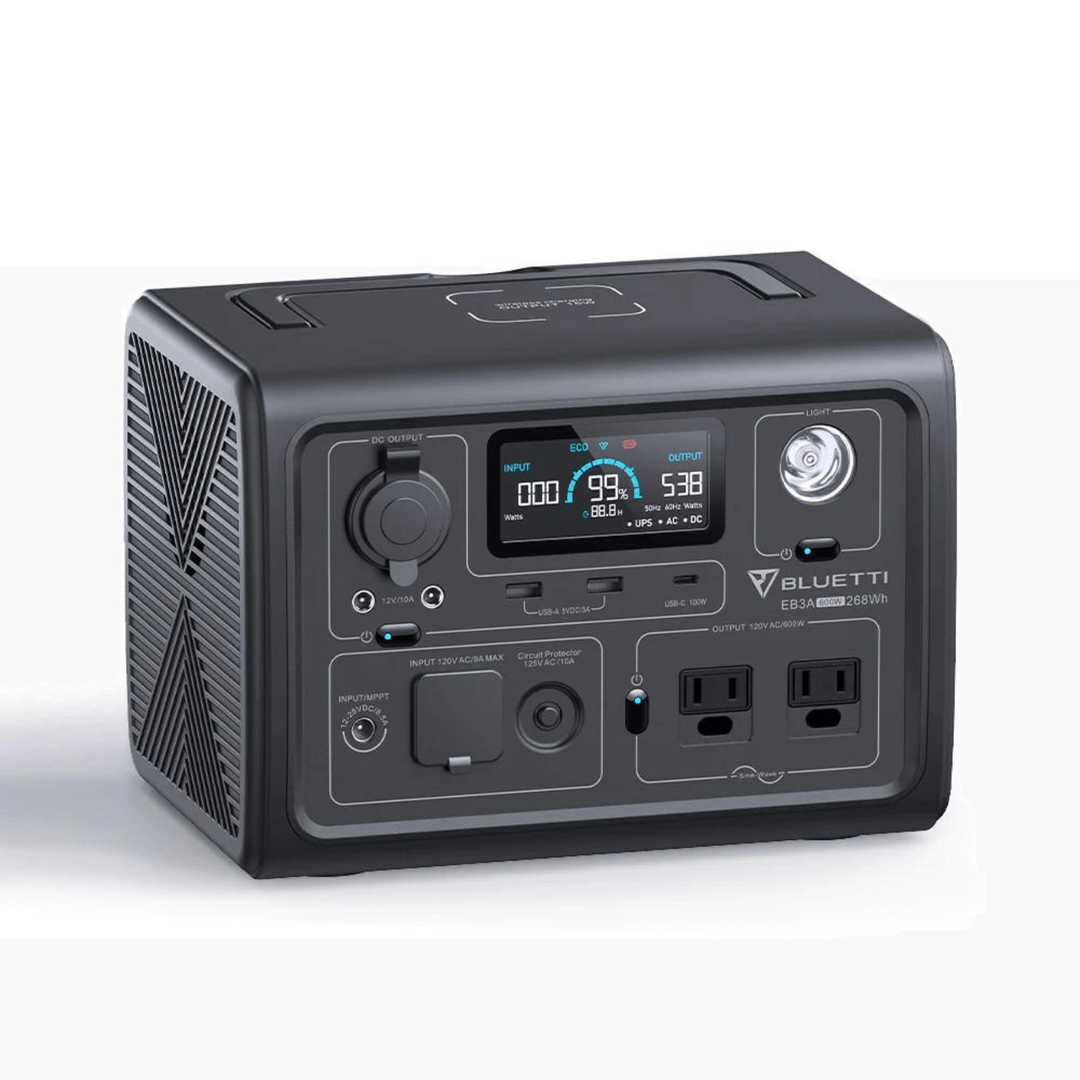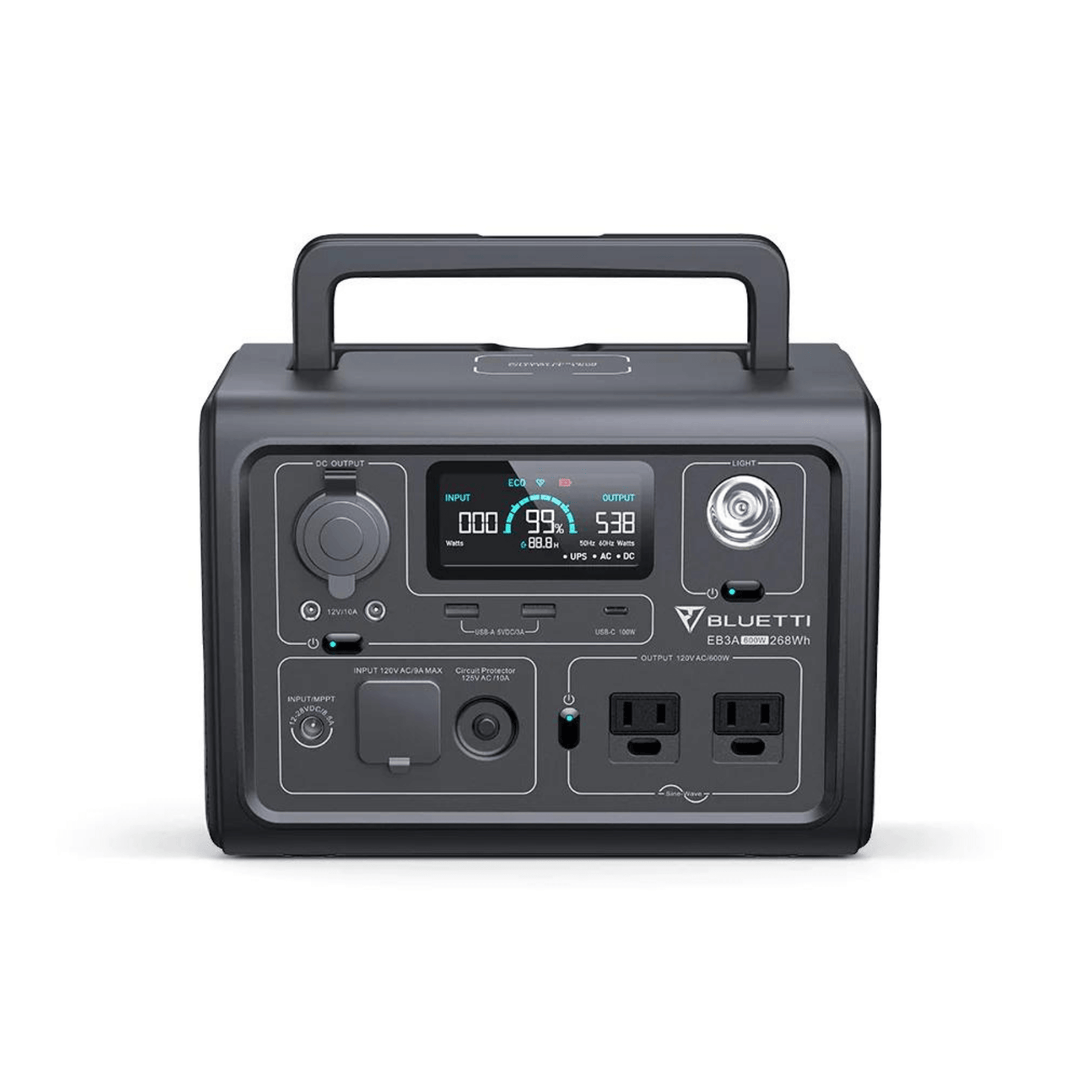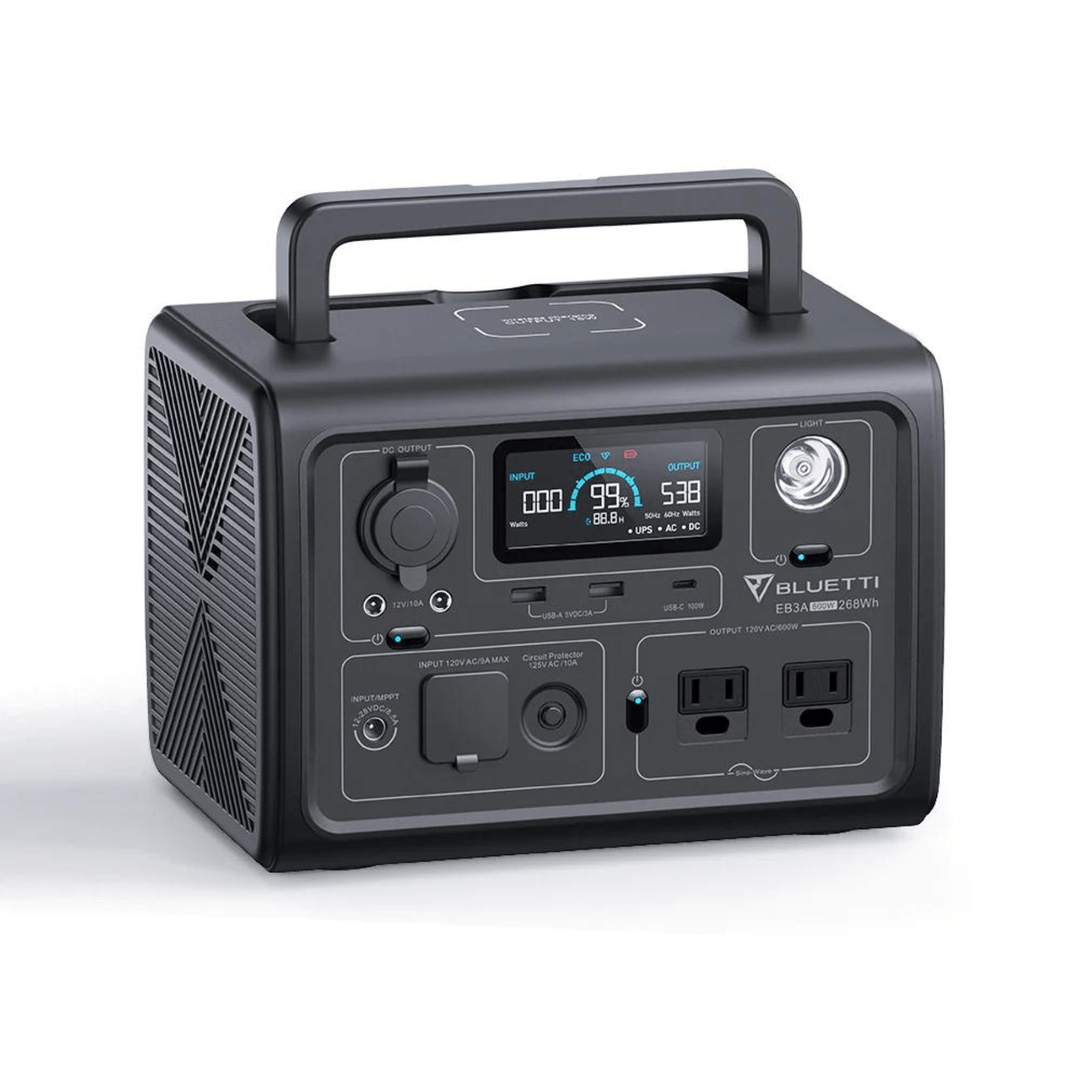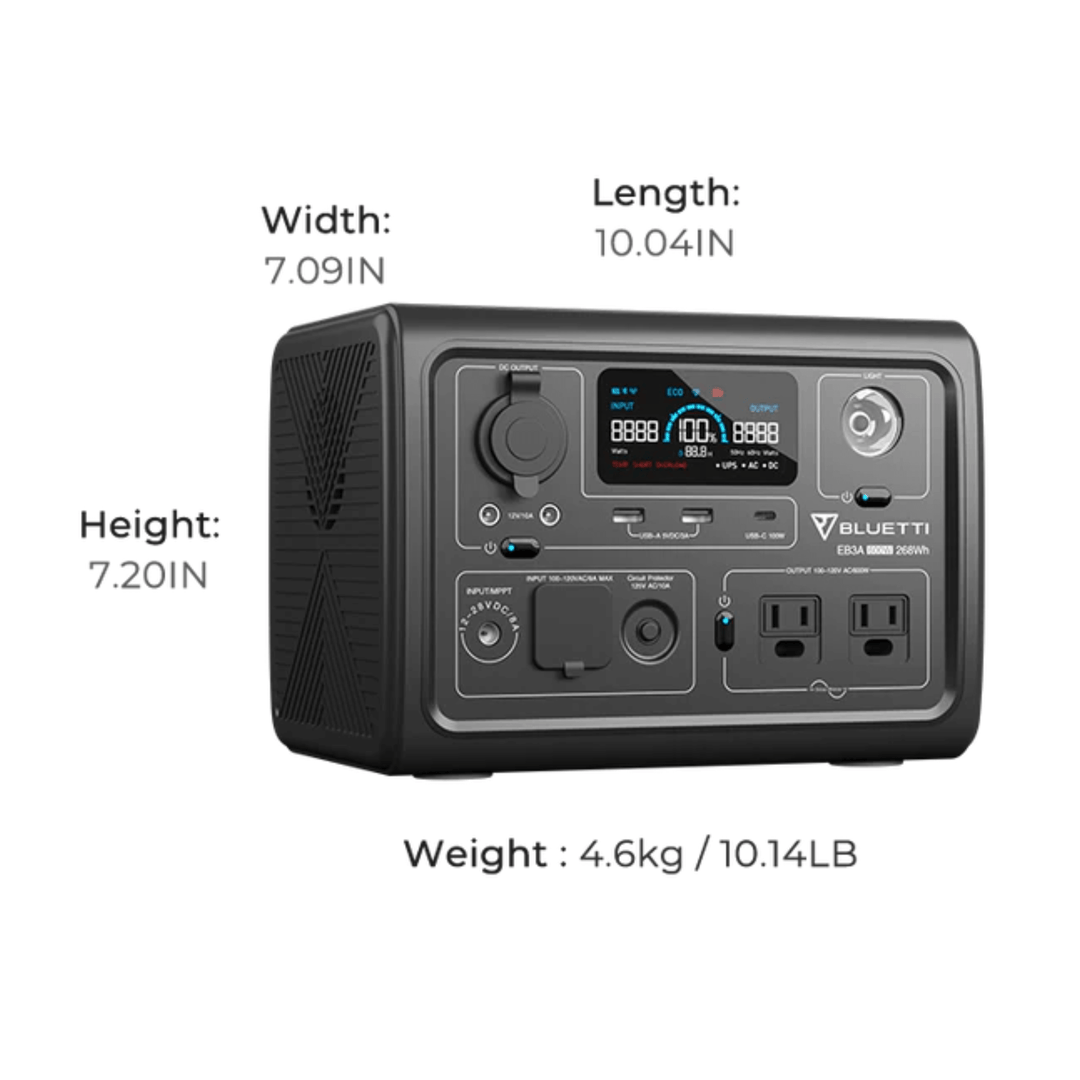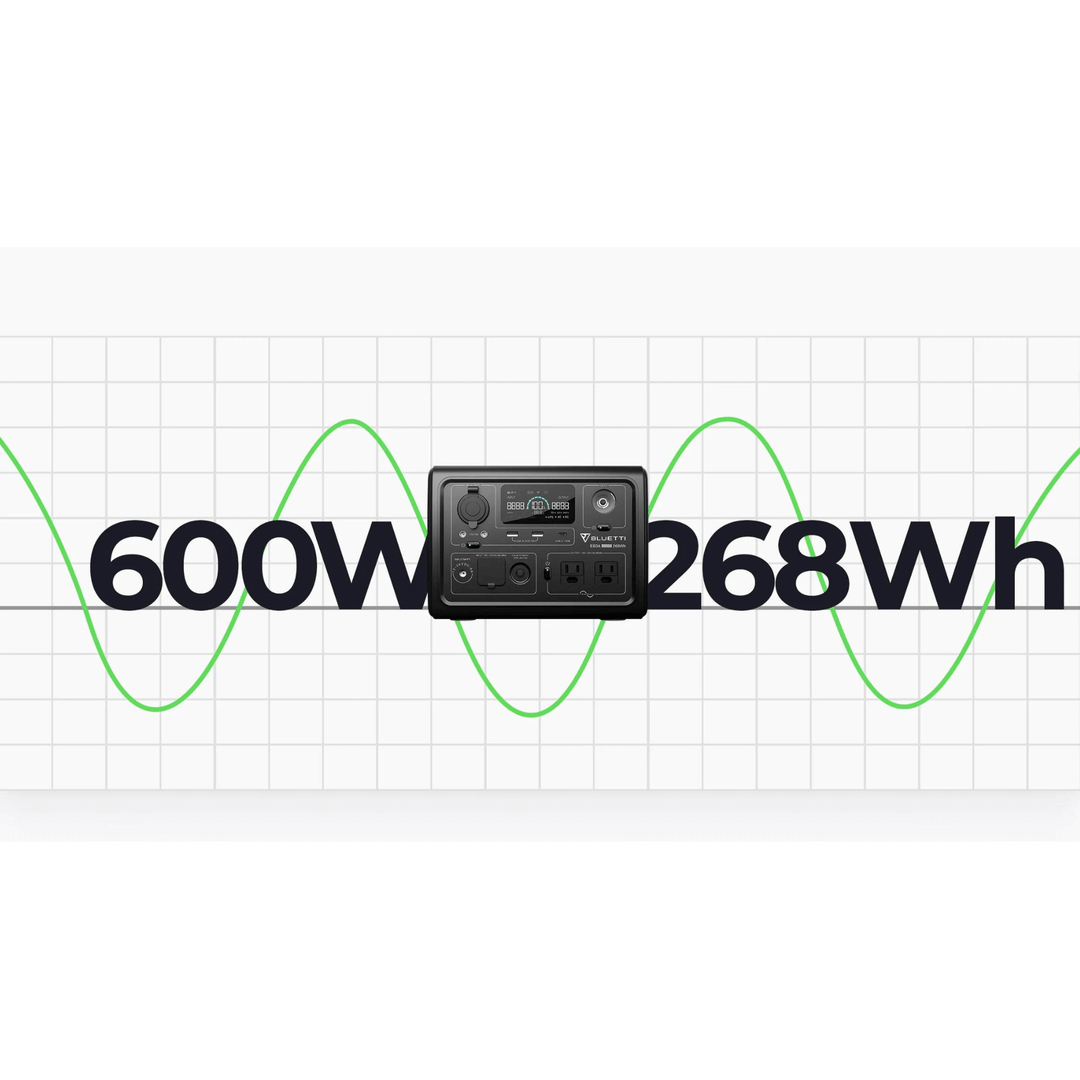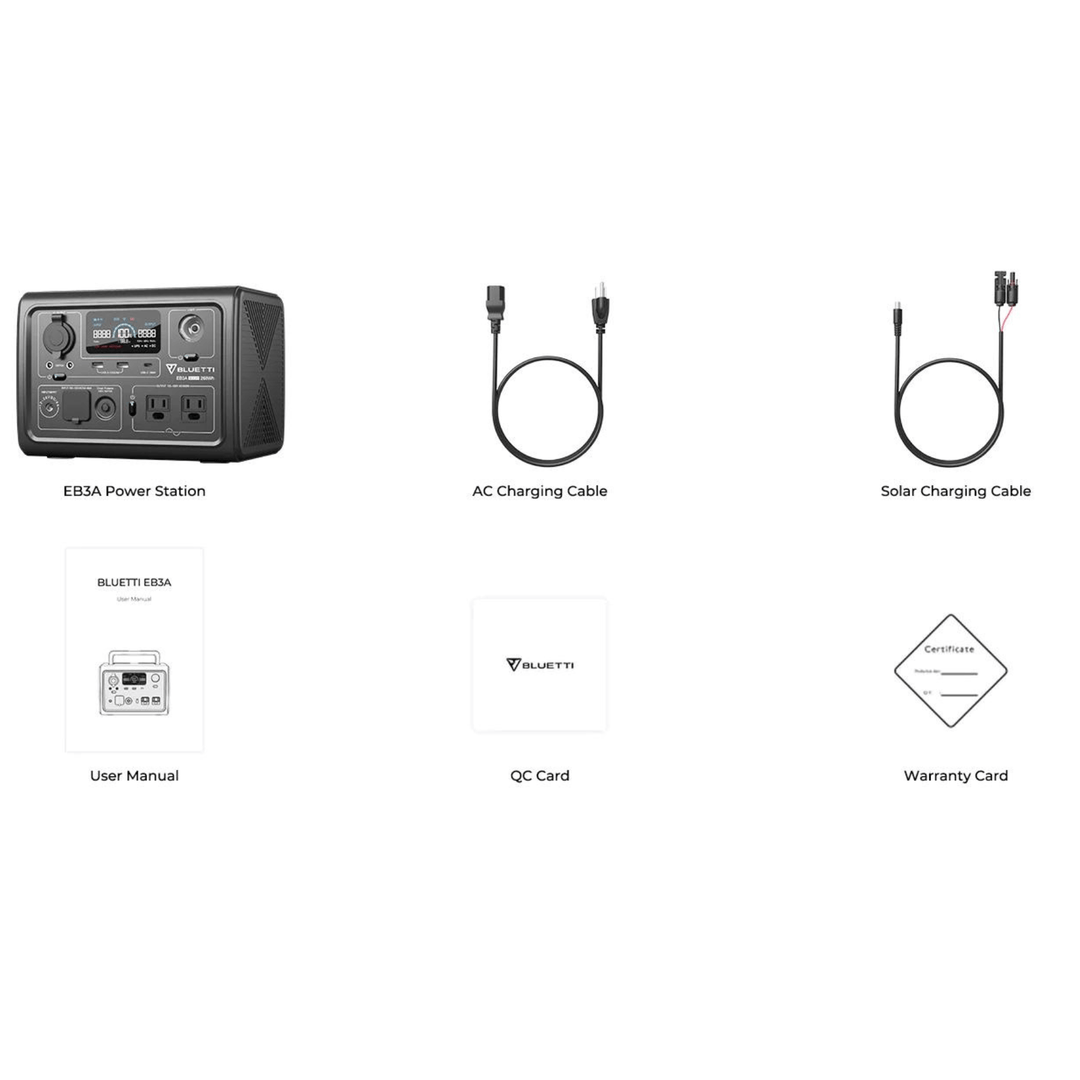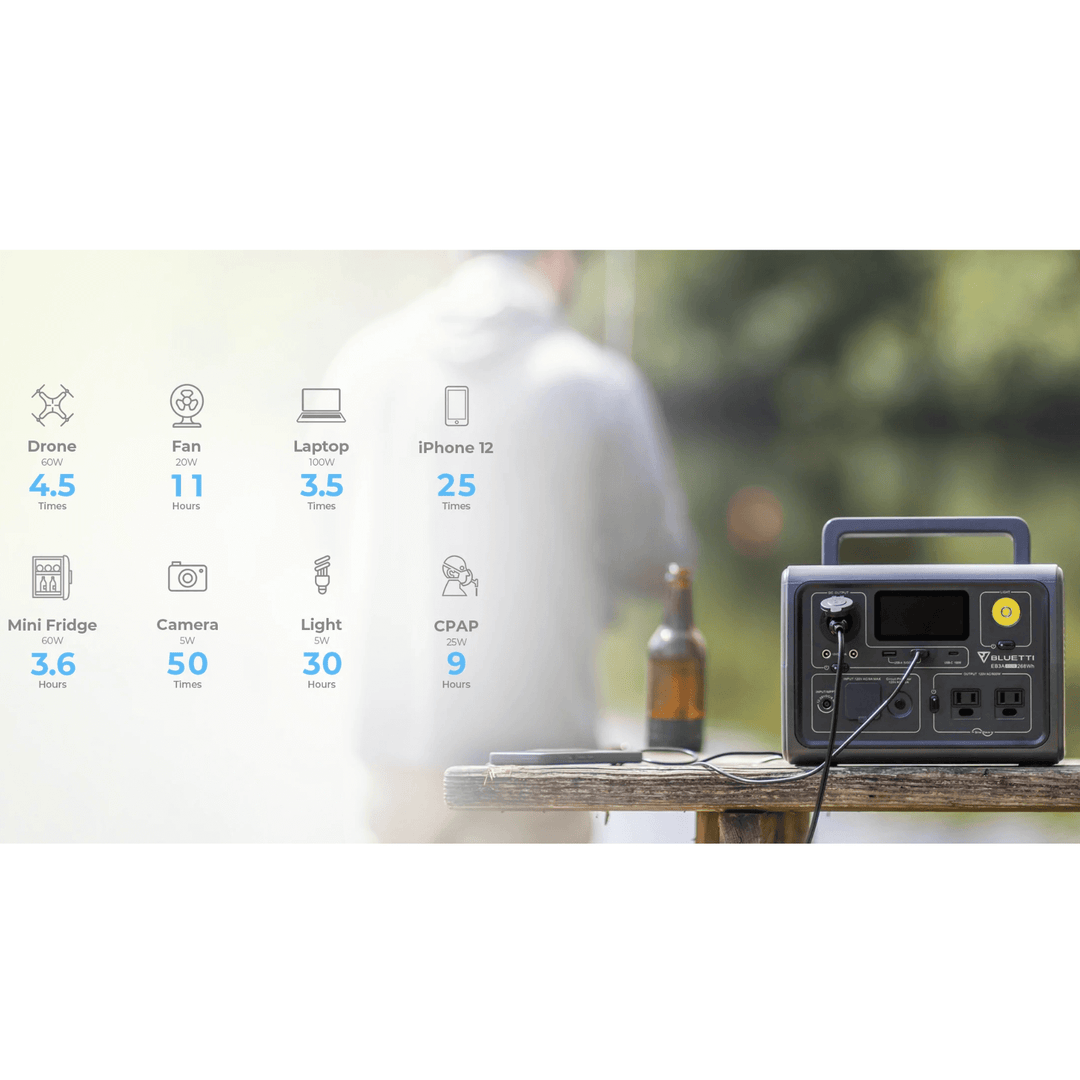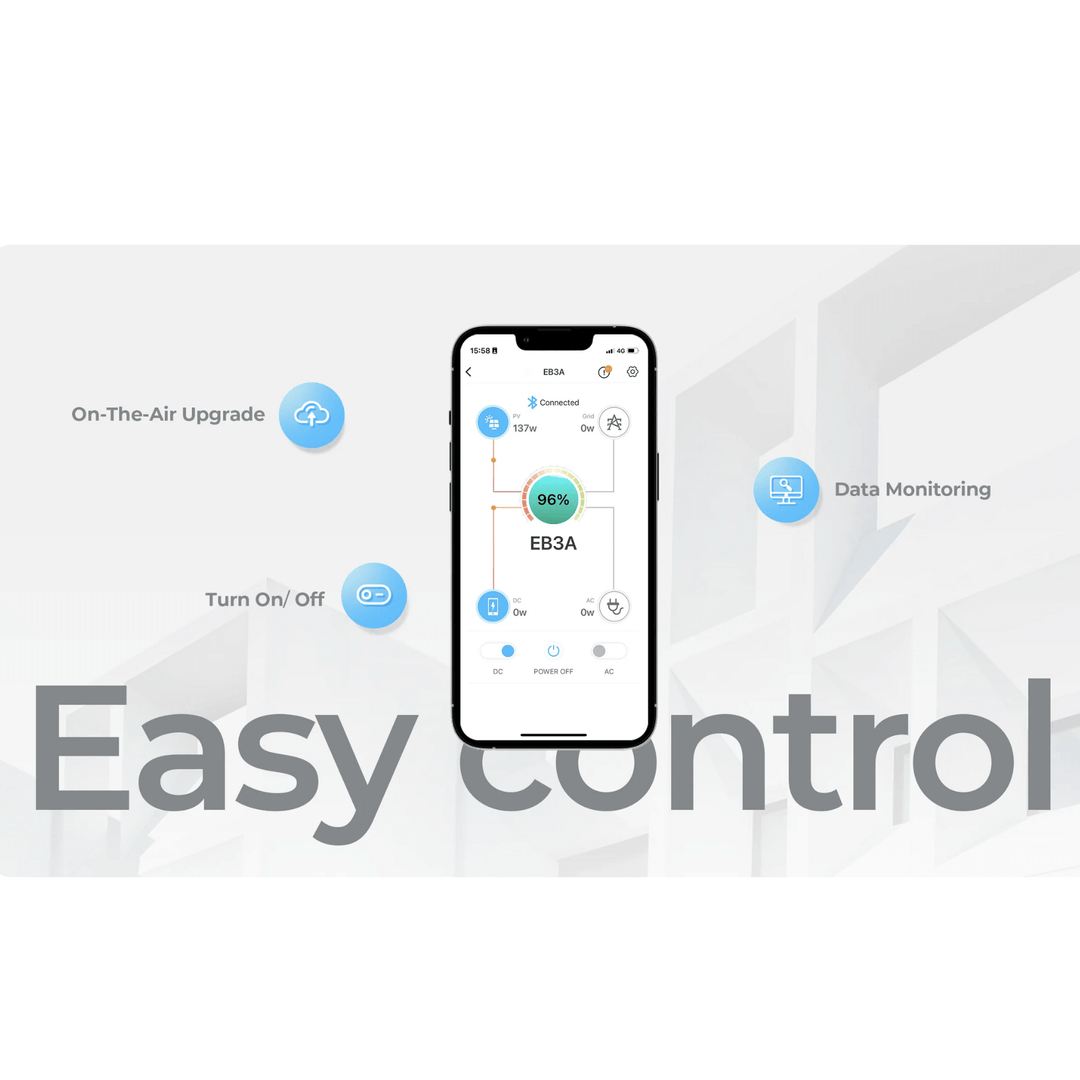 BLUETTI EB3A Portable Power Station
---
Introducing the BLUETTI EB3A Portable Power Station, the perfect companion for overlanding or any off-grid adventures. Engineered with advanced features and designed for convenience, the EB3A ensures you have reliable power on the go.
Features:
600W AC Pure Sine Wave Inverter (1,200W surge): The EB3A is equipped with a powerful inverter that provides clean and stable power output, making it suitable for a wide range of devices and appliances.
268Wh Capacity: With an impressive capacity, the EB3A can keep your essential electronics and appliances running for extended periods, giving you peace of mind during your outdoor expeditions.
430W Max. Fast Dual Charging: The EB3A supports rapid charging through both solar and AC power sources, allowing you to replenish its energy reserves quickly and efficiently.
LiFePO4 Battery with 2,500+ Life Cycles: The advanced LiFePO4 battery technology ensures long-lasting performance, with over 2,500 charge cycles to 80% capacity, providing you with a reliable power source for numerous trips.
6 Ways to Recharge: Enjoy flexible recharging options with the EB3A. Whether it's through AC power, solar panels, a car's DC outlet, a generator, or a combination of AC power and solar, this power station can be easily replenished.
9 Outputs for Charging Multiple Devices: The EB3A offers nine output ports, allowing you to charge multiple devices simultaneously. Stay connected and keep your essential electronics powered up wherever you are.
Smart Control & Monitor in BLUETTI App: Take full control of the EB3A using the BLUETTI App. Monitor the power usage, check the battery status, and customize settings to optimize your power management.
200W Max. Solar Input: Harness the power of the sun and recharge your EB3A with solar panels (not included). Enjoy the freedom of renewable energy while on your overlanding adventures.
Easy to Carry, Fast Charging, Safe & Reliable, Cost-effective: The EB3A is designed with portability in mind. Its compact size and built-in handle make it easy to carry, while it's fast-charging capabilities and robust construction ensure reliable performance. With the EB3A, you get a cost-effective solution for all your power needs during overlanding trips.
24/7 UPS: The EB3A can act as an uninterruptible power supply (UPS), providing backup power during power outages or emergencies and ensuring continuous operation of your essential devices.
With the BLUETTI EB3A Portable Power Station, you can have peace of mind knowing you have a versatile and dependable power source that will keep you connected and powered up wherever your overlanding adventures take you. Don't compromise on power when you can have the reliable performance of the BLUETTI EB3A.
BATTERY INFO
Capacity: 268.8Wh (12Ah)
Type: LiFePO4 (Lithium Iron Phosphate)
Life Cycles: 2,500+ Cycles to 80% Original Capacity
Shelf-life: Recharge to 80% Every 3-6 Months
Management System: MPPT Controller, BMS, etc.

OUTPUT
AC Outlets: (2) x 120V/5A Outlets | 600W In Total
Inverter Type: Pure Sine Wave
Surge Power: 1,200W
USB-C Port: (1) x 100W Max.
USB-A Port: (2) x 5V/3A USB-A
DC Outlets: (1) x 12V/10A (Car Outlet), (2) x 12V/10A DC 5521 (5.5mm Outlets)
*All Regulated.
Wireless Charging Pad: 1 x 15W Max.

INPUT
AC Charging Cable (Standard Mode): 268W Max.
AC Charging Cable (Turbo Mode): 350W Max.
Solar Input: 200W Max, VOC 12-28VDC/ 8.5A
Car Input: 12/24V from Cigarette Lighter Port
Maximum Input: 430W, with AC and Solar Input Simultaneously

RECHARGE TIMES
AC Charging Cable (Turbo Mode 350W): ≈1.3-1.8 Hours
AC Charging Cable (Standard Mode 268W): ≈1.5-2.0 Hours
Solar (200W): ≈1.8-2.0 Hours (With prime sunshine, ideal orientation and low temperature)
12V/24V Car Outlet (100W/200W): ≈3.2-3.7 or 1.9-2.4 Hours
AC + Solar (430W): ≈1.2~1.7 Hours (With prime sunshine, ideal orientation and low temperature)
Dual AC (430W): ≈1.2~1.7 Hours (With optional BLUETTTI T200 Adapter)

GENERAL
Pass-through Charging: Yes
Weight: 10.14lbs/4.6kg
Dimensions (LxWxD): 10.04" (L) x 7.09" (W) x 7.20" (D) /255*180*183mm
Operating Temperature: -4-104℉ (-20-40℃)
Storage Temperature: 32-104°F (0-40°C)
Certifications: UL Standard, CEC, DOE, FCC, CA Prop 65
Warranty: 24 Months

Q: Can it charge and discharge at the same time?
A: Yes

Q: How do I know whether by appliance will work well with the EB3A?
A: Calculate the total wattage of your devices. EB3A would work if the load doesn't exceed its rated 600W.

Q: How long can it run my device(s)?
A: Running time = Battery capacity × DoD × η ÷ Device rated power
DoD refers to Depth of Discharge and η is local inverter efficiency.
For EB3A, both DoD and η are 90%. If you run a 100W LED Light with it, the running time will be:
268Wh × 90% × 90% ÷ 100W ≈ 2.17hrs
Note:
1) The formula is NOT suitable for inductive loads with compressors, like refrigerator, air conditioner, etc.
2) The above data is for reference ONLY.

Q: What is the maximum input charing power of the EB3A?
A: 430W Max. via AC and solar charging simultaneously.

Q: Does EB3A support BLUETTI App Control?
A: Yes. Via Bluetooth.

Q: What kind of solar panels should I choose for EB3A?
A: EB3A is compatible with solar panels with 12-28V Open Circuit Voltage, 200W Max. input, and MC4 connectors.

Q: Is the EB3A power station waterproof?
A: Please do NOT store it in a humid environment for a long time.

Q: How to deposit EB3A?
A: Store in a dry and well-ventilated place and recharge to 80% every 3-6 months.

Q: Can I use or chase EB3A in sub-zero temperatures:
A: Temperature ranges for EB3A are:
Charge: 0-40℃ (32-104℉);
Discharge: -20-40℃ (-4-104℉);
Storage: -10-45℃ (14-113°F).
Technically, it can power electrical devices in sub-zero temperatures, but please avoid charging it.

Q: Can it be laid on it side to save space?
A: No. Because that may loose the internal structure. Please keep it upright to ensure its performance.

Q: Is it possible to replace the built-in battery?
A: No. If the internal battery pack malfunctions, please contact us.

Q: Can I expand its capacity by connecting with B300 battery?
A: No.