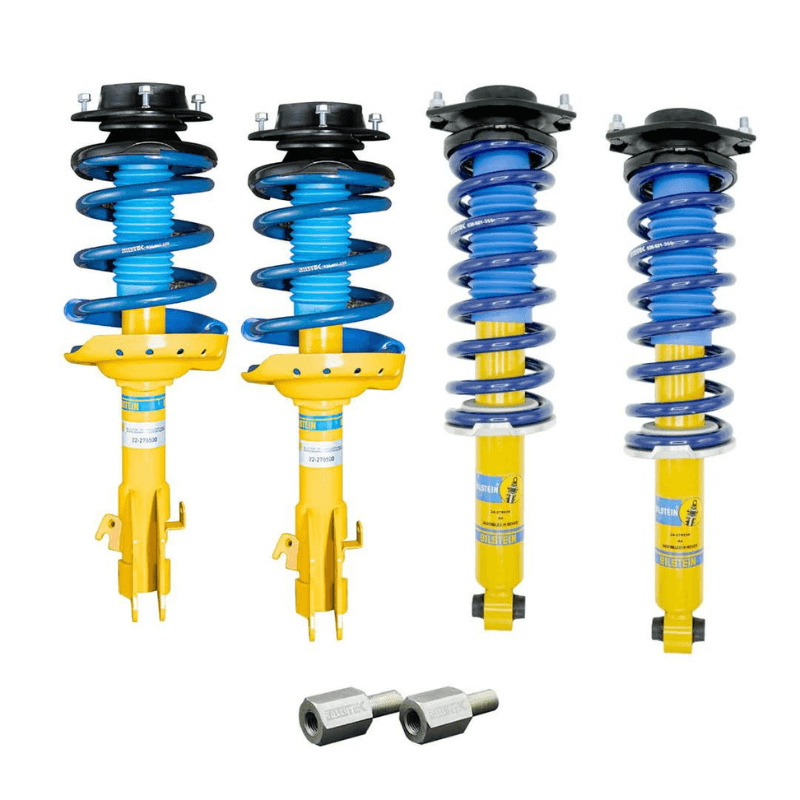 Bilstein B6 Suspension Lift Kit Subaru Crosstrek | 2018-2023
---
Transform your Subaru Crosstrek from its signature on-road comfort to an off-road powerhouse with the RalliTEK Bilstein B6 Suspension Lift Kit. This kit is designed to maximize off-road performance, so thrill-seekers can take their ride to the next level of rugged capability and superior handling!
Features
:
Estimate Lift Height: Gain an impressive 1/2-1 inch lift, depending on your spring choice.
Responsive Handling: Experience more agile and responsive handling, even at higher speeds.
Enhanced Approach and Departure Angles: Conquer challenging terrain with increased ground clearance.
Extremely Improved Off-Road Performance: Tackle rough trails and rocky paths with confidence.
Factory On-Road Ride Quality: Enjoy a smooth, factory-like ride quality during your daily commute.
Increased Load Capacity: Boost your ability to carry heavy loads or extra accessories.
Easy Installation: This complete bolt-on kit requires no drilling or cutting.
Lifetime Warranty: Rest easy with the assurance of a lifetime warranty for added peace of mind.

RalliTEK Lift Springs:

RalliTEK lift springs have undergone rigorous dyno and real-world testing to ensure top-tier quality and exceptional performance. Utilizing cutting-edge technology, these springs offer a linear design that perfectly complements your Subaru, delivering outstanding off-road capabilities while allowing you to accommodate larger tires for improved stability in various conditions. Whether you're navigating hills, embarking on overland adventures, facing snow-covered terrains, or cruising the highways, RalliTEK springs dominate every challenge while maintaining the plush ride comfort that Subarus are renowned for.

Bilstein B6 Shocks and Struts:

Elevate your suspension performance with Bilstein B6 shocks and struts, renowned for their excellence in a variety of applications, including SUVs like the Subaru Crosstrek. These monotube shocks are designed to provide superior ride control and handling without compromising on comfort. High gas pressure, large shock bodies, and innovative heat dissipation technology ensure fade-free performance, even during demanding off-road excursions. Bilstein's patented design prevents aeration and viscosity loss, guaranteeing consistent damping characteristics as temperatures rise.

Crafted using a specialized extrusion method, Bilstein shocks boast remarkable precision, strength, and heat dissipation, thanks to their seamless monotube design. Influenced by motorsport engineering, they offer greater stability, improved road handling, and precise steering. Additionally, Bilstein products are built to last approximately four times longer than Original Equipment, and they come backed by an aftermarket lifetime warranty, delivering unmatched durability and peace of mind.

With the RalliTEK Bilstein B6 Suspension Lift Kit for Subaru Crosstrek, you're not just elevating your vehicle; you're enhancing your off-road adventures with the perfect blend of performance and comfort. Explore the unbeaten path with confidence, knowing you have the best in suspension technology at your disposal.
What's Included:
2 - RalliTEK Rear Strut Assemblies
2 - RalliTEK Front Strut Assemblies