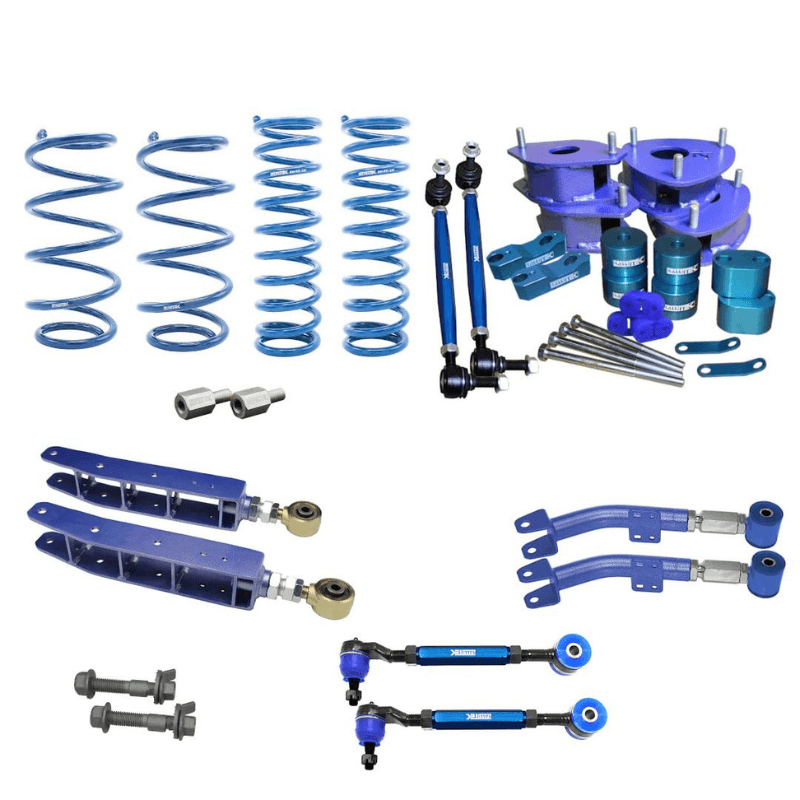 Subaru Crosstrek 3" Lift Kit | 2018-2023
---
Embark on daring adventures with the RalliTEK 3" Lift Kit for Subaru Crosstrek—engineered to help you tackle wild terrain while preserving your ride's alignment. Conquer tough trails and rise to the challenge with this comprehensive kit!

Features:

All-Inclusive Package: This kit is a one-stop solution for adding serious lift to your vehicle. It includes camber/caster corrected 2" front top hat spacers, rear 2" top hat spacers, 1" lift springs, 1.5" rear subframe drop, rear control arms, rear trailing arms, and rear toe arms.
Enhanced Stability: The lifted springs in this kit not only raise your vehicle but also add much-needed stability to your lifted ride.

Maintained Alignment: With corrected top hat spacers, trailing arm brackets, camber bolts, and subframe drop, your vehicle's alignment stays true even at a raised ride height, closely resembling OEM specs.

Extreme Lift: Achieve an estimated +3" lift, ideal for taking on the toughest off-road challenges.

Ride Height Disclaimer

: Please note that the advertised ride height is based on a completely stock vehicle. Your actual ride height may vary depending on your vehicle's trim package, add-ons, or additional modifications.

RalliTEK Springs:

RalliTEK springs are designed to be your everyday solution, whether you're commuting or heading to the mountains or trails for some adventure. Manufactured in Portland, Oregon, USA, these springs are engineered to excel in various climates and terrains across North America.

Quality Assurance: RalliTEK springs come with satisfaction guarantees, manufacturer warranties, and speedy customer support, setting them apart from other off-road spring brands.
Built to Last: Crafted from chrome silicon spring steel, these springs can withstand high stress and extreme temperatures, making them a reliable choice for all-season adventurers.

Improved Performance: Experience better handling and predictability, whether you're cruising the streets or tackling challenging trails with a load.


RalliTEK Steel Lift Spacers:

Robust Construction: RalliTEK lift spacers are constructed from 3/16" MIG welded steel, coated with a hammered blue powder finish for added corrosion resistance.
Maintained Alignment: The front spacers in this kit are offset to preserve the factory range of adjustment, allowing you to maintain proper alignment even after lifting your vehicle.


RalliTEK Adjustable Arms:

Heavy-Duty Construction: RalliTEK control arms are built to last with their 3/16" MIG welded steel construction and zinc primer hammered blue powder coat.
Fine Tune Ability: These arms offer precise rear camber adjustment, ensuring your vehicle's suspension is dialed in perfectly.

Enhanced Suspension Articulation: Utilizing Rock Jock Curry Johnny Joints sealed in rubber for vibration dampening, these arms optimize suspension articulation for a smoother off-road experience.


Upgrade your Subaru Crosstrek with the RalliTEK 3" Lift Kit and embrace the off-road lifestyle with confidence. Elevate your adventures, conquer the trails, and experience the thrill of off-roading like never before.
What's Included:
1x RalliTEK 2" Front Camber/Caster Corrected Steel Spacers

1x RalliTEK 2" Rear Steel Lift Spacers

1x RalliTEK 1" Front Raised Springs

1x RalliTEK 1" Rear Raised Sport or Overload Springs

1x RalliTEK Adjustable HD Rear Control Arms

1x RalliTEK Adjustable HD Trailing Arms

1x RalliTEK Adjustable HD Toe Arms

1x RalliTEK Adjustable HD Lifted Endlinks

1x SPC Camber Bolts (pair)

1x Rear Subframe Drop Spacer Kit
Installation Instructions: